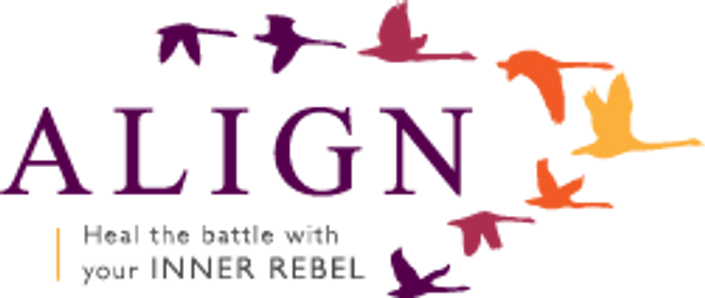 Align: Heal the battle with your inner rebel - the home study course
Be filled with the power to follow through
Help for when you feel stuck in resistance, rebellion, and self sabotage
As we approach the beginning of a new year, you probably have dreams, hopes and intentions for the coming season. You may want to make changes in how you eat, care for your body, or care for your needs - like setting limits around sugar, getting more sleep, or beginning an exercise program.
You may have wonderful intentions and feel full of heart and desire - and yet find yourself feeling caught in strong feelings of resistance, inner conflict, and defiance.
When you go to set that limit with sugar, you may have an inner part that suddenly flares up and says, "No! You can't make me!" - and proceeds to eat way too much chocolate.

This can be so frustrating - especially when you're earnest, sincere, soft hearted, and trying so hard.
It may feel like the only way you can change is to be hard on yourself - even though this feels awful. Or you may feel discouraged, like compassion doesn't work. You may feel envious of those who seem to be able to follow through on their goals. Ouch, I can relate. It's so painful.
The missing ingredient: power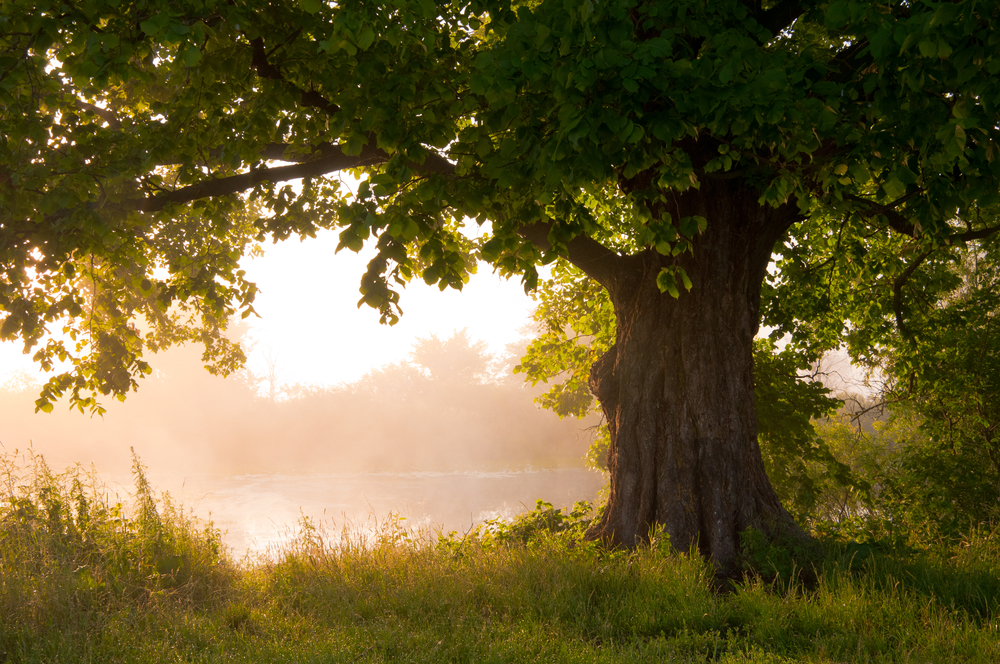 What's missing is power. Being connected to your internal sense of power is what creates self leadership: the capacity to effect and make changes in your life.
When we don't have a connection to our power - or when we're afraid of hurting ourselves with overbearing or abusive power - we may feel afraid of using power in our relationship with food or with ourselves at all! This can show up in a number of ways:
you may feel paralyzed, unable to move forward
you may collapse into hopelessness, collapse and feelings of 'why bother'
or you may ping pong between being too lenient and too rigid with yourself
The root underneath these issues is often a conflicted relationship with power, and in particular, internal conflict with your 'inner rebel.'
Meet the inner rebel

The inner rebel is the part of us that says, "Uh oh, no way!" and strongly rebels or resists when we try to tell ourselves no, set limits or steer or guide ourselves into new ways of being. The inner rebel can arise as strong emotions, body sensations, thoughts and feelings of resistance, rebellion, opposition, and defiance.
It's like a 2 year old saying, "No! You can't make me and I don't want to!"
The inner rebel can be so frustrating! For there's a part of you that longs for growth, healing and change. And yet the conflict with the inner rebel can create 'self sabotage,' fester feelings of self doubt, and keep you stuck in the very patterns you long to change.
In teaching over a thousand students and in listening to their food stories, nearly everyone experiences conflict with their inner rebel. It's really, really common – and is why I've created this course.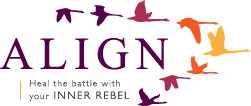 Help to soften resistance and rebellion

In Align: Heal the battle with your inner rebel, you'll receive support, tools, practices, and understanding to give you greater confidence and competence in relating to this part of yourself. This course is especially designed for heart centered, highly sensitive people - to have a way of relating to power that fits with your needs.

The good news is this – you can learn ways to understand, listen to, and care for the inner rebel so that you can soften and soothe this dynamic.
It's not about 'cutting out' this part of yourself, but understanding its necessary and vital role, giving it outlets so it can do its job, and connecting with this part of your being.
With loving relationship, you can align your inner rebel with the other parts of yourself, where your various parts cooperate in greater harmony – working together towards your dreams, hopes and yearnings.
The next step of your journey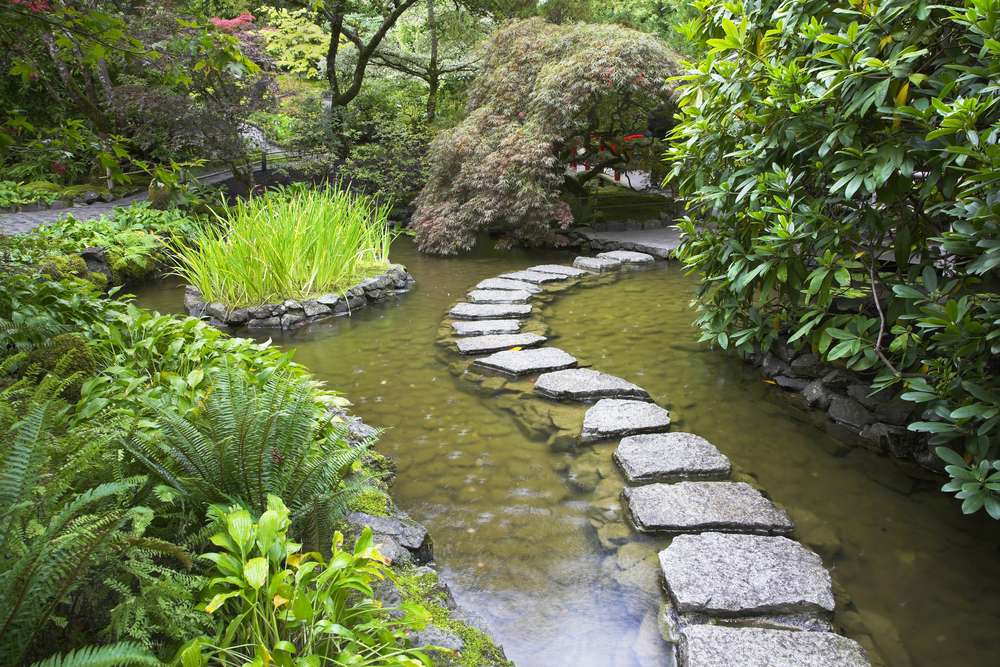 If you've spent a lot of time nurturing your softness, making room for your vulnerability, and creating a more compassionate relationship with yourself and your overeating, and yet you feel like you're not able to make the changes you'd like to make with food, healing your relationship with your inner rebel may be the next step on your journey.
In this course, you'll learn about the dynamics that feed the inner rebel, how to soften the battle between your desire for change and your desire to say no, and how to relate to your inner rebel with more levity, playfulness, and friendship rather than fighting with this part of you.

A healthy relationship with your inner rebel is how you're able to:
soften 'self sabotage' and resistance
stop doing what doesn't work – doing the same thing over and over, while expecting a different result
access a fuller range of your power and capacity
and how you feel empowered to make changes in your relationship with food, your body and self care
Be filled with power and volition
I want you to feel empowered - to be the leader of your life, to be filled with power, to feel courage when facing difficult emotions and needs, and to feel both empathy and 'good orderly direction' for those parts of you that feel resistant, defiant, rebellious, stuck or afraid.
Healing your battle with your inner rebel - learning how to befriend rather than fight against this part of you - will help you embody and embrace your natural power. This then frees you up to follow through on the dreams, intentions, and hopes that are precious to you and your being - and that are also needed in our shared world.
As a sign in my gym bathroom says, "Please don't throw paper towels, trash, hopes and dreams down the toilet."
A gentle approach based in wholeness and compassion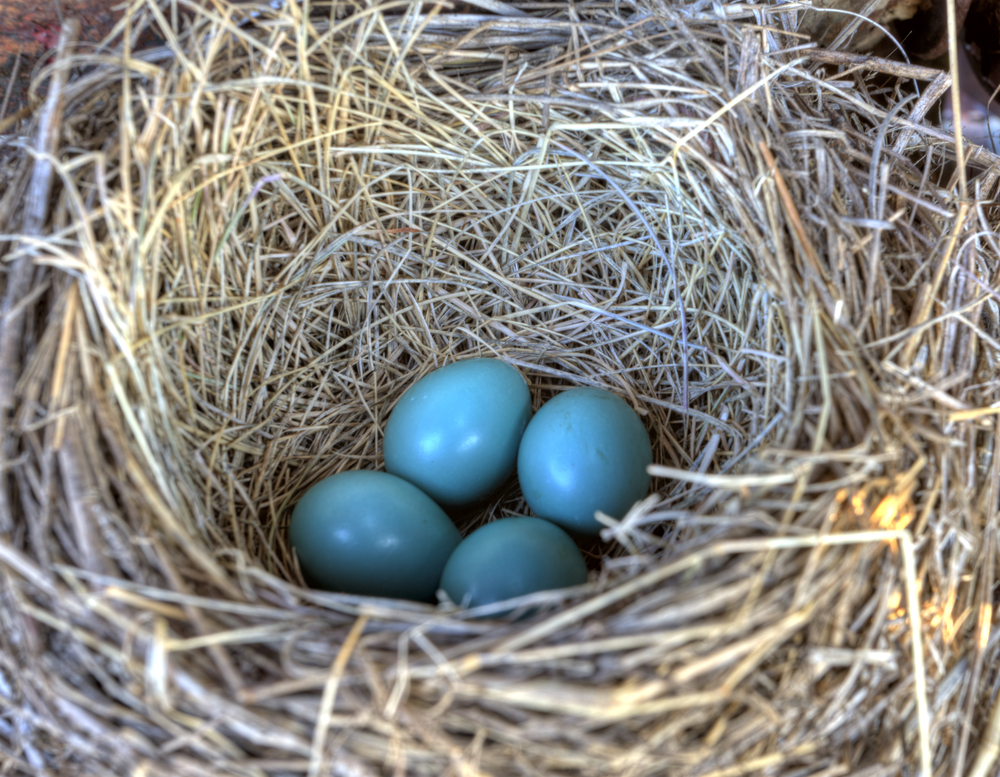 In Align, you'll be approaching the inner rebel with compassion, gentleness, and wholeness - as a part to integrate into your being rather than a part to cut out.
You'll learn a gentle approach based in self compassion, deep listening, connection, and welcome to relate to your inner rebel rather than reacting to it.
In the 5 modules of the course, you'll be walked through this approach:
Understanding the needs, instincts and feelings of the inner rebel
Relating to the inner rebel with compassion, understanding, and gentleness - and also with firmness and strength
Caring for the vulnerability that lies underneath the inner rebel – the soft, tender feelings, hurts, wounds and unmet needs that are underneath
And responding to this part with 'wise steering' - with wisdom, insight, and discernment - knowing when the inner rebel calls for softness, when it calls for a no, when it calls for listening, when it calls for a yes, and more
This is a do at home course and is available any time.
The course curriculum:
Module 1 - Meet your inner rebel

In this module you'll learn why we can feel caught in strong feelings of resistance, no, and "You can't make me!"
You'll learn how the inner rebel typically appears in your daily life.
And you'll learn how to approach this part of you in a spirit of reverence and cooperation rather than opposition and conflict.
Module 2 - Understanding feelings of resistance and opposition

In this module, you'll learn about counterwill, the developmental instinct that opposes coercion and being told what to do.
You'll learn why it's important to listen to and honor resistance and the developmental purpose that resistance serves.
And you'll learn how to soften counterwill and bring in self leadership, listening, and cooperation to those parts that resist being guided.

Module 3 - Befriending vulnerability - the soft under belly of the inner rebel

In this module, you'll learn how to befriend the vulnerability that can lie underneath resistance.
You'll learn when resistance is a protector part caring for a part of us that feels powerless, scared, or unprotected.
And you'll learn how to meet the true needs of these parts so that the resistance can soften.
This process is often key in softening our fear and frozeness around our inner rebel, helping us feel less afraid of this part and more empowered to care for it.
Module 4 - Befriending limits and the love that is 'no'

In this module, you'll learn how to reframe how you look at limits, boundaries, and no as a form of love and protection rather than a form of punishment, shaming, coercion, force or control.
You'll also learn how to move through the adaptive process, what prunes out what doesn't work and nurtures neuroplasticity, healing, and transformation.
Module 5 - "Breathe and push" - nurturing sovereignty, self leadership and 'follow through'
In this module, you'll learn how to access and nurture your inner power and strength, the self leadership that can steer you through resistance.
You'll learn when to say no to resistance, when to say yes, when to slow down, and when to move to care for the hurt underneath.
You'll also learn how to nurture your capacity to follow through and effect change, to make the positive changes your heart yearns for.
Want to sample the course curriculum?
I appreciate that it can be helpful to get a taste of the course so you can see if it's the right fit for you. You can preview the course curriculum below.
Course Curriculum
Welcome to Align: Heal the battle with your inner rebel
Available in days
days after you enroll
Laying the foundation: let's begin!
Available in days
days after you enroll
Module 1 - Meet your inner rebel
Available in days
days after you enroll
Why this is a great place to be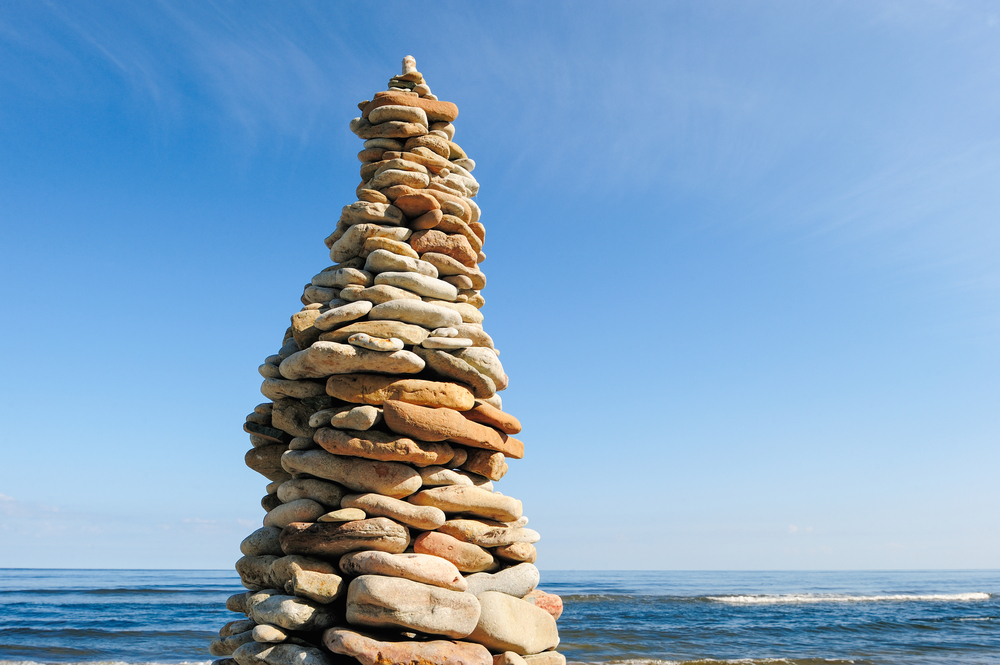 Healing your relationship with your inner rebel frees up your natural power, energy, and passion so that you can devote these precious resources towards what is most important to you - rather than embroiling this energy in warding off inner conflict.
If you've struggled with embodying and expressing power in how you care and nourish yourself, and you feel a nudge, longing, or desire to express power and strength in your life - even if you don't feel like you know how to do so - then you may be at a turning point in your journey.
You may be longing to express these other aspects of your being in your life, to combine softness with strength, compassion with commitment, and autonomy with cooperation. While it may feel scary, new or uncertain, it's a great place to be!

For something is longing to be born in you.

May this new life be supported with kindness, gentle hands, care, and support.

Whether or not you choose to take this particular course or whether you find help from another source, I want to thank you for your courage, desire and interest in this work. I wish you fullness of power, sovereignty, self leadership, and inner strength!
May you be a beacon of healthy power for yourself and for our world!
Your Instructor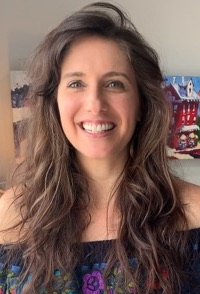 About Karly, the course creator
Hello! I'm so glad you're here. I'm Karly, your guide through the course. I help highly sensitive people who struggle with shame, sugar, overdoing and perfectionism and who yearn to create a kinder, more compassionate relationship with themselves.
There's a deeper story that lives underneath the surface story of your struggle, and this story is both more true and more merciful. It's this story that I help midwife into being. There is so much beauty - and so much tenderness - that lives in and underneath your struggles.

Growing human(kind)ness, the name of my website, means to soften self criticism and shame, and to claim the wholeness that is our birthright. This work arose from two things - from my own experience with 20 years of multiple eating disorders, chronic depression and anxiety, and from bearing witness to others' stories of challenge, growth and rebirth.
I teach classes, write books and courses, and speak to groups.
I offer this teaching in service to all who feel the shame of human stumbling and who yearn for wholeness, and a desire for a more compassionate and connected world. Underneath all my work you'll find a love for the human heart.

I live in Austin, Texas with my husband Patrick and our family, two dogs, a very frisky cat, lots of dust bunnies, and beautiful oak trees. I love good stories, good music, good food, good words, lifting heavy things, and long walks.
What other students have said....

Kindly note: as Align is a new class, the testimonials on this page are from students who've taken other classes with us. We share them in a spirit of transparency, and so that you can get a sense of whether or not our approach is a good fit for you.

"[The course] has worked in me to lower defenses, shame and alarm...I also have approached limits with food in a much healthier way without trying or forcing...it seems like an inner shift has taken place outside of conscious effort on my part!
"The beauty of working with Karly for me has been the experience of being accepted and supported unconditionally in the most nurturing way I have ever experienced.
"[It creates the]...most incredible experience with every course I have taken with her -- 4 in total now!"
- Mary, New York, USA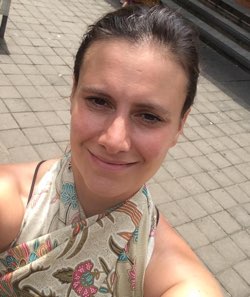 "This course blew me away, reaching depths that I longed to touch but didn't know how to.
"For so long I have struggled with living in two different worlds- one that genuinely likes, values and practices health and well-being and one that is secretly plagued by emotional and binge eating.
"As I know many in this course have done, I feverishly searched for answers trying to find understanding, relief and change. And I found bits and pieces here and there, but it lacked the depth and comprehensiveness that I was yearning for.
"Today that has changed and therefore I have changed. This course facilitated so many aha and breakthrough moments.
"I was finally able to see and tap into the shame train that I was on since a traumatic incidence in my childhood. That incident connected me to shame which grew deeper and wider through the years and over many life experiences. I also saw with clarity that I gripped to shame because, while it was destructive, it also protected and served me, giving me a reliable entity to lean on.
"Through this course I came to a place where I could look behind with gratitude and understanding while looking ahead with optimism and excitement and chose to step OFF the shame train and wave goodbye. With this massive shift, I was also able to begin practicing self-worth which I think was previously tied to perfectionism but I loosened that grip.
"I am no longer obsessed with finding the right diet, model, lifestyle, etc because I have found the right model ...staying connected to my power, my light, my true self, my worth though compassion and a fierce yet tender love.
"I am not eating perfectly nor am I my ideal weight but I am no longer wrapped tightly around trying to force that. I have confidence, courage and compassion in a new way. And I believe that this is the platform for all other change that needs to take place.
"THANK YOU for bringing so much wisdom, so much intelligence, care and love to this program. It's truly helped me to break free."
- Jenn Urso, Cleveland, Ohio, USA
"When I was a school nurse-teacher in New York, I would buy a bunch of boxes of cough drops to give as a placebo, really, to the frequent young visitors to my office.I ate far more of those sugary cough drops myself than I ever gave to the children!
I had sugar cravings for a great many years... I never realized sugar craving was an issue until I gradually gained more awareness of compulsive behaviors. I am now 78. That behavior combined with compulsive shopping and compulsive activity were each ways I used to numb my feelings for most of my life.
It's only through my later years with excellent therapy, mindfulness meditation, writing my life story this year and Karly's unexpectedly deeply healing course I signed onto on a whim one day, that I now no longer have compulsive sugar cravin g and am experiencing the freedom that comes from the craving having been lifted from me.
It feels miraculous and it IS. I am profoundly grateful to Karly."
- Roberta, New York
"It's a huge blessing and privilege to be part of these groups. It feels a bit like having wounds gently cleaned with care. The groups hold us and also re-mirror us to ourselves so we can allow the cracks to mend. It's art.

I have not often had the experience of being part of something that creates a stirring of recognition in me.. a feeling of 'yes.. this bears a true pulse, it is something that creates life from seed to plant, a womb out of which new life comes.'
You are creating a true legacy and I'm thankful and so privileged to have somehow become connected to it." - Pauline, London, UK
Frequently Asked Questions
This is a do at home course. How does that work?
As the course is a do at home course, you can start the course at any time. The course has 5 modules, and you'll be walked through each module week by week with an email prompt. Within each module, you'll have audios, worksheets, and prompts/exercises that you listen to and complete.
What if I'm unhappy with the course? Do you offer refunds?
We want you to get the help you need, and we want you to find the right fit for your needs, whether that's with us or with someone else. If you have any questions if this is the right course for you, please reach out to us at
[email protected]
We're here to help! If you take the class and discover it's not the right fit for you, please contact us in the first 15 days of purchase and you'll receive a full refund. Kindly note: after 15 days, we don't offer refunds.
Can this course help heal trauma?
Trauma can be so tender, and we have so much empathy for the challenges of living with trauma and the ways it can impact your feelings, thoughts, and inner experience. While this course can help you in relating differently to resistance and bring support and understanding, it's not designed to heal trauma. For help with trauma, we highly recommend searching for a therapist with trauma training in your community. Many people find it very helpful if they pair a course like Align with trauma support. This kind of support can make all the difference in bringing ease and healing in your life - and we want this for you!
How do I know if this course is the right fit for me?
This course is a good fit for you if you're comfortable in an online/virtual learning environment and you're highly sensitive or heart centered. ​This course is especially designed for highly sensitive people and offers gentle ways of playing with power. You'll pair softness with strength in a way that fits your being and needs. Lastly, if you've spent a lot of time nurturing your softness, making room for your vulnerability, and creating a more compassionate relationship with struggles like overeating, and yet you feel like you're not able to follow through on the changes you'd like to make, healing your relationship with your inner rebel may be your next step. This course is a great fit for this stage of the journey.
What if I have further questions or I'm still unsure if it's the right fit for me?
We want you to find the right fit for your needs, whether it's our course or a course with another teacher. If you're still unsure if this course is the right fit for you and you have more questions, please email us at
[email protected]
and we'll help. As we're a small company, kindly give us 1-2 business days to respond to your email.
How much time should I expect to spend in this course?
I would count on spending 2-3 hours a week for the course – one hour to study the course materials and another hour or two to process your experience and experiment with the practices.
How long do I have access to the course materials?
We want you to be able to use the course for as long as you need! We offer online access to the course for one year. After this year's time, we offer a zip download where you can download the materials (you'll receive audio recordings of the videos) onto your devices - computer, phones or tablets.