Why change can feel so hard
Being stuck in a bad habit can feel so painful that you decide – "Enough!"
It may feel like the only way you can change is to be hard on yourself or to try and be as 'good' as possible. But when change is based in punishment, is driven by perfectionism, or fueled by anxiety – a sense that we're falling short – it doesn't work, and it feels awful. It's no wonder we resist this 'help!'
When this 'help' doesn't, well, help, we can blame ourselves for not doing better.
We can be equally frustrated by the growth process. Most of us have an internal picture of what we think growth – or our lives – should look like.
When our lives don't match this mental picture, we panic, thinking there's something wrong. We compare ourselves against this ideal and fall short.
This feeling that 'something's wrong' or that 'I'm falling short' fills us with stress, anxiety and inner tension that worsens the very habit we're trying to change.
This can show up in a number of ways:
trying to do everything perfectly or be in control
panicking or beating yourself up when you make a mistake
getting easily thrown off course when you hit an obstacle
feelings of hopelessness about changing
and lots of worry about 'doing it right'
Ugh!
Bad habits aren't your fault

It's not true that change is impossible, or that there's something wrong with you, or that you're falling short. You merely need a different approach.
It starts with the ground floor - what's behind eating too much sugar. There's something so tender underneath this 'bad habit' that's driving you nuts.
We all have times when we feel stressed, overwhelmed or like we don't have what we need. We can feel lost, uncertain, and insecure.
And many of us carry pain from past experiences in our bodies. This pain gets pricked in our daily life and stirs us up, physically and emotionally.
When we feel overwhelmed, when our pain gets pricked, or when we feel exhausted and stressed, we can reach for some kind of warmth and nurturing – like sugar – to help us feel better.
Then, when this morphs into a habit, and we get more and more stuck in it, we don't like ourselves. We feel bad for our 'bad habit.'
This is where our need for compassion steps in.
What you need to change your habits with sugar

The answer to habit change isn't being hard (or harder) on yourself. The answer is found in three things:
Gentleness, ease and patience for the healing journey – unwinding a habit is a process, and one that takes time, kindness, and presence. When you understand and make room for this process, you feel less stressed and less driven to get it right – and right away. This, paradoxically, helps you change and grow.
Gentleness, ease and patience for yourself – in addition to unwinding the habit itself, you're also building new habits, new ways of caring for your feelings and needs. This also takes time, patience, and kindness. Growth is often uncomfortable, and can be hard. But it's not your fault! When we acknowledge this, we can support ourselves and our courage rather than criticizing ourselves.
Emotional support. When you're moving through the growth process, you'll have times when you'll panic, when you'll feel like nothing's changing, when you feel bored, when you get scared, and when you don't feel like doing the things that help you feel nourished and cared for. During these times, you need emotional support to care for these emotions without getting stuck in them. This helps you navigate the ups and downs of the journey with resilience, trust, and strength – an internal sense of, "I can handle this."
In teaching over 1,000 students and listening to their sugar stories, these three things are what I see over and over as laying the foundation for change. Emotional support is especially crucial. Nearly everyone needs more of it, for modern life can feel lonely and disconnected.
That's one reason why I created this course: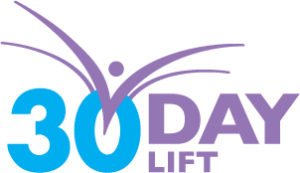 In The 30 Day Lift, you'll receive support, tools, practices, and understanding to give you greater confidence and competence in helping yourself through the process of changing your habits with sugar.
This course is designed to help you compassionately reframe your experience with sugar so that you can honor your body's natural limits.
This is not a diet (you won't find information on what to eat) nor a bootcamp, nor a course on what or how to eat. Rather, it's a course on nourishing, supporting and growing the internal resilience, strength and levity that helps you make external changes with sugar or other painful habits.
In the course, you'll receive daily emotional support to help you when you feel panicked, overwhelmed, or frustrated.
You'll learn how to apply self compassion to the process of habit change, so you can create more nourishing self talk and build resilience , that internal sense of, "I trust myself to move through this."
And you'll receive help to reframe how you see the growth process, so that you can relax and settle in to your healing rather than feeling like you have to try really hard and make it happen on your own.
This course is especially designed for highly sensitive people and those who want a gentle approach.