Help for when you feel stuck in resistance, rebellion, and self sabotage
Here in February, you probably have dreams, hopes and intentions for the coming year. You may want to make changes in how you eat, care for your body, or care for your needs - like setting limits around sugar, getting more sleep, or beginning an exercise program.
You may have wonderful intentions and feel full of heart and desire - and yet find yourself feeling caught in strong feelings of resistance, inner conflict, and defiance.
When you go to set that limit with sugar, you may have an inner part that suddenly flares up and says, "No! You can't make me!" - and proceeds to eat way too much chocolate.

This can be so frustrating - especially when you're earnest, sincere, soft hearted, and trying so hard.
It may feel like the only way you can change is to be hard on yourself - even though this feels awful. Or you may feel discouraged, like compassion doesn't work. You may feel envious of those who seem to be able to follow through on their goals. Ouch, I can relate. It's so painful.
The missing ingredient: power

What's missing is power. Being connected to your internal sense of power is what creates self leadership: the capacity to effect and make changes in your life.
When we don't have a connection to our power - or when we're afraid of hurting ourselves with overbearing or abusive power - we may feel afraid of using power in our relationship with food or with ourselves at all! This can show up in a number of ways:
you may feel paralyzed, unable to move forward
you may collapse into hopelessness, collapse and feelings of 'why bother'
or you may ping pong between being too lenient and too rigid with yourself
The root underneath these issues is often a conflicted relationship with power, and in particular, internal conflict with your 'inner rebel.'
Meet the inner rebel

The inner rebel is the part of us that says, "Uh oh, no way!" and strongly rebels or resists when we try to tell ourselves no, set limits or steer or guide ourselves into new ways of being. The inner rebel can arise as strong emotions, body sensations, thoughts and feelings of resistance, rebellion, opposition, and defiance.
It's like a 2 year old saying, "No! You can't make me and I don't want to!"
The inner rebel can be so frustrating! For there's a part of you that longs for growth, healing and change. And yet the conflict with the inner rebel can create 'self sabotage,' fester feelings of self doubt, and keep you stuck in the very patterns you long to change.
In teaching over a thousand students and in listening to their food stories, nearly everyone experiences conflict with their inner rebel. It's really, really common – and is why I've created this course.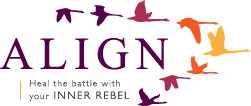 Help to soften resistance and rebellion

In Align: Heal the battle with your inner rebel, you'll receive support, tools, practices, and understanding to give you greater confidence and competence in relating to this part of yourself. This course is especially designed for heart centered, highly sensitive people - to have a way of relating to power that fits with your needs.

The good news is this – you can learn ways to understand, listen to, and care for the inner rebel so that you can soften and soothe this dynamic.
It's not about 'cutting out' this part of yourself, but understanding its necessary and vital role, giving it outlets so it can do its job, and connecting with this part of your being.
With loving relationship, you can align your inner rebel with the other parts of yourself, where your various parts cooperate in greater harmony – working together towards your dreams, hopes and yearnings.
The next step of your journey

If you've spent a lot of time nurturing your softness, making room for your vulnerability, and creating a more compassionate relationship with yourself and your overeating, and yet you feel like you're not able to make the changes you'd like to make with food, healing your relationship with your inner rebel may be the next step on your journey.
In this course, you'll learn about the dynamics that feed the inner rebel, how to soften the battle between your desire for change and your desire to say no, and how to relate to your inner rebel with more levity, playfulness, and friendship rather than fighting with this part of you.

A healthy relationship with your inner rebel is how you're able to:
soften 'self sabotage' and resistance
stop doing what doesn't work – doing the same thing over and over, while expecting a different result
access a fuller range of your power and capacity
and how you feel empowered to make changes in your relationship with food, your body and self care
Be filled with power and volition
I want you to feel empowered - to be the leader of your life, to be filled with power, to feel courage when facing difficult emotions and needs, and to feel both empathy and 'good orderly direction' for those parts of you that feel resistant, defiant, rebellious, stuck or afraid.
Healing your battle with your inner rebel - learning how to befriend rather than fight against this part of you - will help you embody and embrace your natural power. This then frees you up to follow through on the dreams, intentions, and hopes that are precious to you and your being - and that are also needed in our shared world.
As a sign in my gym bathroom says, "Please don't throw paper towels, trash, hopes and dreams down the toilet."